Articles on investing and capital management, with a quantitative focus.
---
Investing With Crash Protection
2021-07-24
---
I have two distinct strategies for investing while also having some protection from crashes and extreme volatility. One is Bullsignals, my algorithm-based trend following strategy. The other is PRP, my diversified portfolio based on risk parity and the Permanent Portfolio.
The market crash in 2020 was the first time I have been able to see both of these strategies in a real-life crash.
Both strategies appear to have accomplished their goal: they softened the market crash while still providing good returns. For the 19 month period from before the crash to now, both produced very strong positive returns.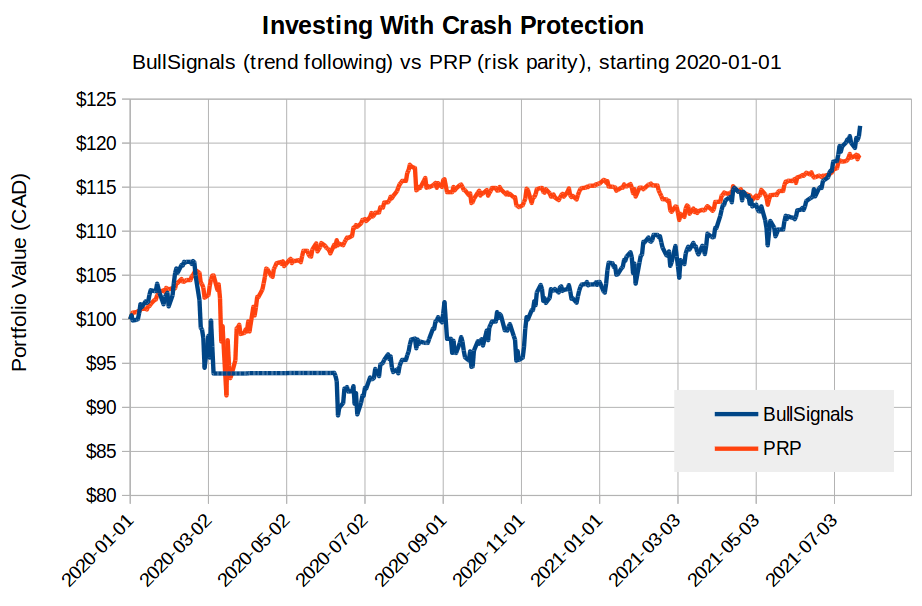 | Metric | BullSignals | PRP |
| --- | --- | --- |
| Maximum drawdown | -16.4% | -13.5% |
| CAGR since Jan 1, 2020 | +13.6% | +11.6% |
| Number of days below $100 | 185 | 25 |
Overall, I think PRP handled this crash better.
PRP recovered back to $100 much more quickly
PRP was ahead of BullSignals nearly the whole time
it's completely passive and requires no trades
Even though BullSignals produced the higher return (as of today), I think PRP looks like the better strategy.
— Jem Berkes
---